Funny cartoon pictures and videos have been finding their way into more and more of my articles, so I finally just decided to create one entire page solely dedicated to the best free funny cartoon pictures and Youtube videos that I could find online.  Free funny cartoons make people's lives better everywhere.  If more people looked at funny cartoon pics instead of killing each other over politics, religion, race and economics, the world would be a far happier place.  Smart people look at the hilarious funny cartoon pictures posted here instead of wasting their time creating global harm.  So without further ado, look below and start laughing at the free funny cartoon pictures!
Sometimes after going through a long interview process, I feel like the guy below who wants his resume back.

The deliriously funny cartoon picture below may offend your sensibilities, if it does then you should skip by it.  Good luck doing that though 😉

When I am your boss one day, you will wish you followed the advice in the free funny cartoon picture below.
The funny cartoon about animals and mad cow disease below really made me laugh.
The very funny cartoon picture below cracked me up.  The way that some of these funny cartoon artists can play on the idiosyncracies of English speech is utterly amazing at times.  I really appreciate the effort that the cartoon artists put into making people laugh at their funniest pictures.

Once again, the cartoon artist below has found a way to make people laugh by playing on silly tricks in our speech.  Funny cartoon pictures can pick up my day and make me laugh uproariously even when I am feeling down and sad.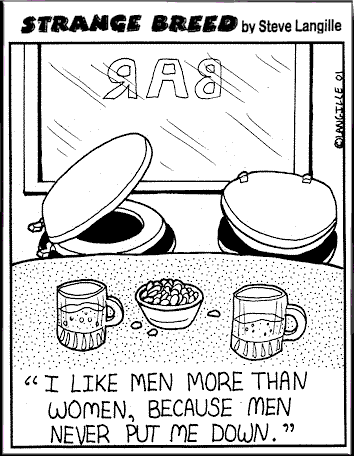 So maybe this funny picture below is not a cartoon, but I still laughed at it and decided to include it in my funny cartoons collection.  Isn't it great that all of these funny cartoons are for free online?  Where would you have found all the funny pictures before the internet was developed?!?!

I feel like the man in the funny cartoon picture video below many times when I am trying to fix my computer at work.'  Things go wrong with your computer and cause instant rage and you feel like picking up your computer and chucking it out the nearest window.'  Having funny cartoon videos like the one below help me keep my perspective so I don't go too nuts.


I bet that we all occasionally feel like the woman in the picture below… people bug you and bug you and don't even realize how much they are bugging you until it is too late.'  Funny cartoon pictures are an excellent way of pointing out the things that make us mad and defuse these situations so that we can laugh at them instead of taking up the battle axe.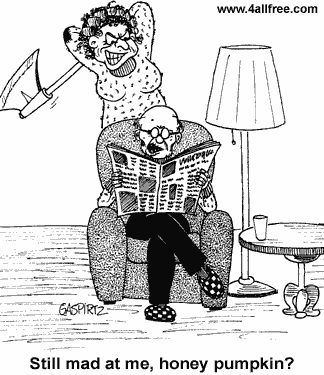 I like the funny picture of the redneck gingerbread house below enough that I included it in my funny cartoons article even if it isn't exactly a cartoon.'  Check it out and laugh your blank off!


Here's another hilariously funny picture that I couldn't resist including in this funny cartoons article even if it technically does not meet my definition of what I am going for.'  Look at the nun grin leeringly at the computer screen… I wonder what she's looking at?!


The Swiss Army Knife cartoon below is pretty stinking funny too.'  The funny cartoon image portrays a grizzled fork husband yelling at his spoon wife after he discovers that their child isn't quite what he had been expecting…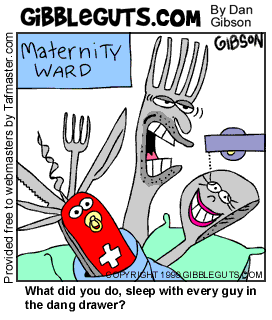 The funny photoshop cartoon below made me laugh because it brings to mind how I look at myself in the mirror.'  I see myself as the King of America, even though that may not be the truest statement or thought in the world for me to have.


The funny picture below represents how I feel many times at work.'  You know something needs to be done immediately, but instead your boss puts it off for what feels like decades and you never get around to getting the important client job done.'  Oh well, I think that my new boss is significantly better than the old one at staying on top of business and making sure that everything that needs to get done gets finished on time.


HAHAHHA!'  The funny cartoon picture below is one of the best ones that I have seen so far.'  I love how sad the daddy nail looks as he sees his hammered Junior nail.'  Funny drinking cartoons are some of my favorites since they are a little bit more risque and on the edge.
Potty humor funny cartoons are another of my favorite genre.'  I actually have a photograph of my little brother Jordan and I sitting in a bathtub when we were kids with a big turd ship floating around us and huge smiles on both of our faces.'  So gross.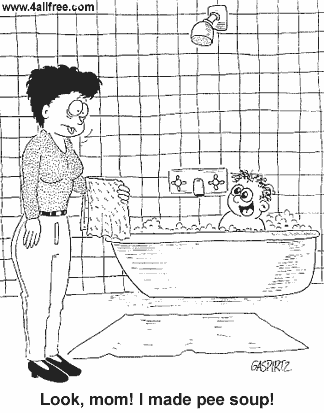 Microsoft Windows is usually very good at making people very frustrated which can make for some pretty funny pics that can be photoshopped.'  Good stuff.


I bet that grandma didn't expect grand-daughter to respond that way to her Christmas gift!'  The funny Christmas cartoon picture below makes fun of the differences and misunderstandings that can arise between different age groups, even in the same family.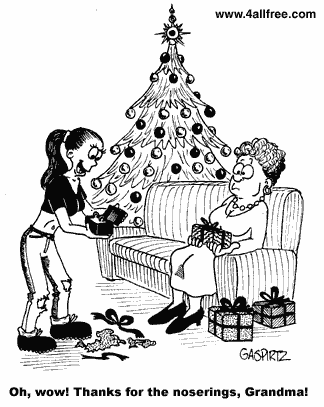 Wrong choice there chief.'  Never taste the snowflakes when the birds are flying above your head.'  I think that this is another one of my favorite funny cartoon pictures that I have found.

Funny cartoons pictures- To see the next funny cartoon picture, scroll down and look at it genius.'  Are you really still reading my inane commentary or are you skimming everything to see the funny pictures and funny cartoons?'  I certainly hope you stopped reading my idle chatter, because it really adds nothing to most of these cartoons.'  On the other hand, I like to talk so I hope at least someone is listening.'  If you actually read this comment on my funny cartoons pictures article, please mention it in the comments so I can laugh at you.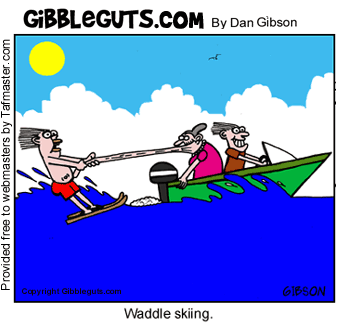 The poor little dog in this picture looks sad because I think he can feel his impending doom.'  Once again, this may not be a funny cartoon picture, but at least it is a funny picture and you sure as heck had better at least release a guffaw at it.


I am starting to wish that some of our American politicians would follow the Russian Roulette players lead in the funny cartoon picture below.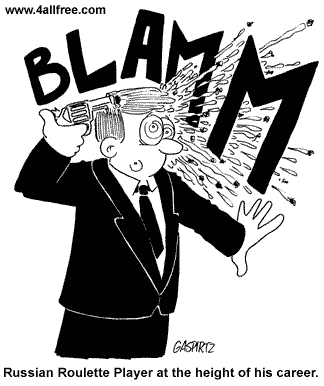 Proctology has to be the most mocked profession per capita, probably beating even the law.'  Check out the funny proctologist picture cartoon below and laugh.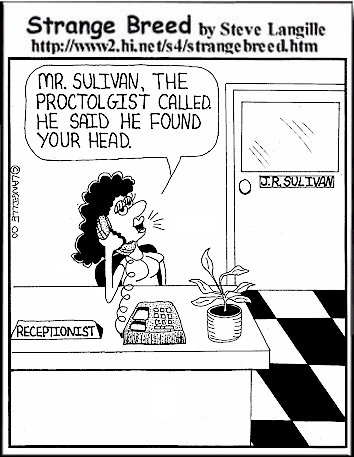 Email addiction is a serious problem that several of my near and dear friends suffer from and even I show symptoms of it from time to time.'  Enjoy the funny email addiction picture cartoon below and let me know in the comments section if you enjoyed it.


How many times has your computer said "Press Any Key" to you?'  Where is the Any key?'  Look at the funny picture keyboard cartoon below to find out where the Any key is located on your computer.


Another hammer and nail cartoon is below.


Can someone say a S#)@*storm is brewing?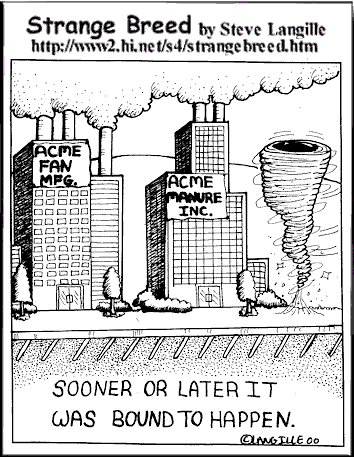 Funny hanging picture cartoon shows a man getting a very very cruel April Fools joke played on him.


The Redneck house alarm funny picture is something that should brighten your day as it did to mine.


The funny balding cartoon picture below shows a man desperately pleading to a tree in the fall.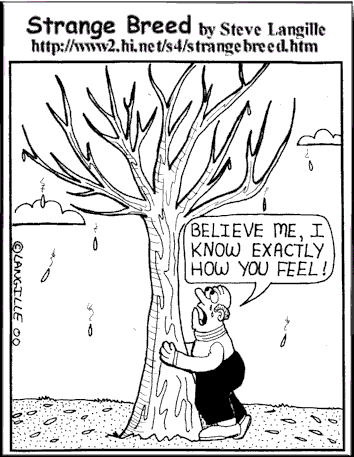 Some women are just plain evil as evidence by the really funny cartoon picture about nagging.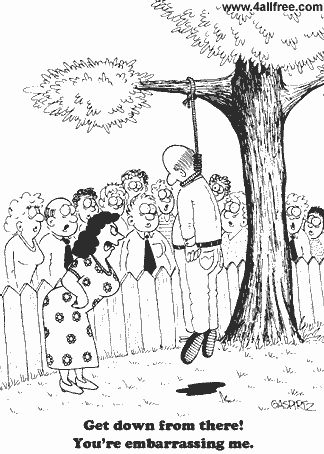 Old people driving cars is a frightening phenomenon especially considering that the aging Baby Boomers keep buying fancy new rides.'  The really very funny picture cartoon of an old woman driving a kill-mobile below cracked me up.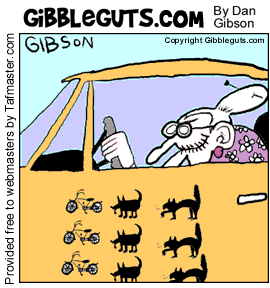 Chiropractors may or may not be real doctors, but they sure are fun to make fun of in hilarious cartoons!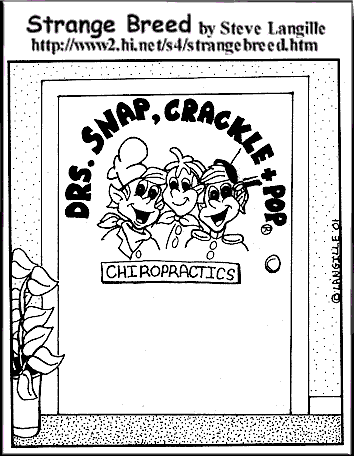 Once again, I have abandoned funny animated cartoons in favor of a funny picture, but you gotta love this one.'  Jealousy is pretty rough!

If you enjoyed looking at all of my funny animated cartoon pictures that I posted, please let me know in the comments section below and I will find more in the future for your enjoyment.'  Which of the funny pictures or funny animated cartoons did you like the best?'  I think my personal favorite funny animated picture cartoon was the one of the man having the April Fools joke played on him where his friends faked hanging him.