While perusing the internets, I came across a list of funny wedding photos and thought that I would repost them and some other good ones I spotted here. I have participated in a couple of weddings and my younger brother Justin has a wedding coming up in December, so funny wedding photos seems like a good relevant topic. Unfortunately, I have not yet taken any funny wedding photos of my own but perhaps I'll take some at the upcoming weddings I will be attending.
Funny Wedding Photos- Ummm…. Where's the chauffeur?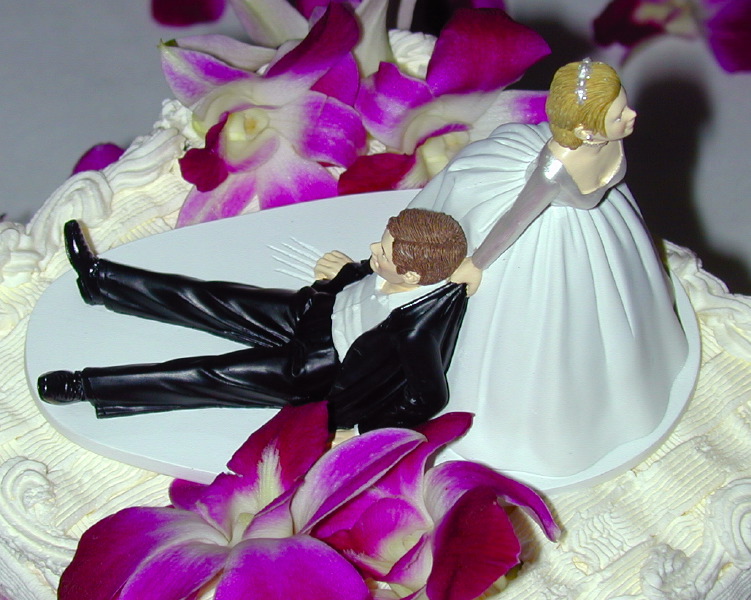 Funny Wedding Pictures- One day this will be me.
My dream is to have this woman be my bridesmaid at my wedding.. then it will be my funny wedding photo.
The Proper way to prepare oneself for the honeymoon night.
Someone is about to get MESSED THE F UP!!!! Funny Wedding Photos!
Is there a doctor in the house? I love that guy's hair in this funny wedding photo.
See the rest of the FUNNY WEDDING PICTURES by clicking to read more below:
Yum, wedding photos KFC/ white trash southerner style!
Bridezilla Masters Program: "When he doesn't buy you the right size diamond you… "
I love these wedding pictures they are cracking me up!
American brides, you gotta love 'em! I love how someone captured a funny wedding picture of this whale scarfing down a hotdog as fast as her bridezilla face can do it.
Funerals, hunting and weddings… mankind has been busy engaging in it's favorite past times since the dawning of time.
The only way Joel ever will get married is at the behest of a shotgun. What a great wedding photo!
Hhahaha…. Pastor has a funny thing on his nose in this wedding picture.
MMMmmmmmm……….hugs.
The vows are so difficult to remember. Reminds me of when I had to memorize Bible verses in elementary and high school. I hated memorizing Bible verses and routinely found ways to cheat (and get caught lol).
This funny wedding picture looks like the makings of a really fun bachelor's party.
Someone should hit that guy on the left of this funny wedding photo.
Perhaps she made a mistake when she said yes to his wedding proposal.
When you got to go, you got to go. Poor Bridezilla has to sit there and smell her future hubbie's dirty #2 in this funny wedding picture.
MMM… I love Hoagies.
"SoooOOOO… I'm like soooo eXCITed that YOU are getting married to Johnny"
Maybe I picked the wrong career.
Maybe she was playing a rough game of flag football previous to this funny wedding photo?
Ummm…..
"…Then we'll walk down a wedding aisle made of cow manure for our funny wedding photos!"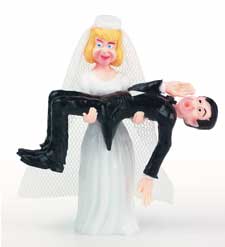 Justin on his wedding night.
I hope that these two in this funny wedding photo don't procreate.
A true athlete going for the biggest prize of them all in this funny wedding picture.
Zonk.
Hahhhaha I love this funny wedding photo… looks like Mardi Gras!
I gotta air out da pits!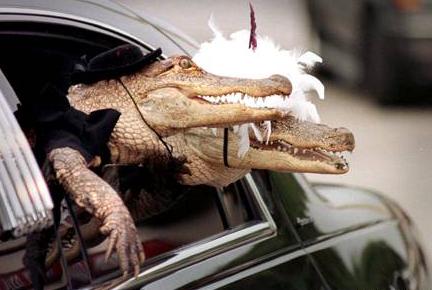 I am so happy that this wedding is finally over!

The ring bearer goes down for the count in the funny wedding pictures.
Goofy. I am amused by all the people in these funny wedding pictures who have cameramen following them around everywhere they go. When I get married Las Vegas, I am not going to want any documentation of the atrocities that follow.
Kissing practice.

Something tells me that this bridal train is not going to last long.

What happens when the blind decide to wed and then have people take funny wedding photos.
Bridezilla flexes her muscles that she will use to overpower the victim for the rest of his post-wedding life.
Plato has a funny chairman mao watch that Jarek gave him after he got back from China.
Something tells me that this bridezilla should have hosted her wedding at Jenny Craig and not McDonalds.
How sad.
What happens when you invite Joel to attend your wedding. When I go to weddings I will go out of my way to create opportunities for funny pictures. At Justin White's wedding, I had a jolly old time trying to do the YMCA dance after spending a tad too much time at the open bar that his new (and now ex) father-in-law had set up.

MMMmmmmmmm… CAKE! WEDDING CAKE!
You gotta answer the Wedding Troll's three questions to pass up and consume Bridezilla.
A college runningback with a 48 inch vertical leap gets married.
This one is confusing.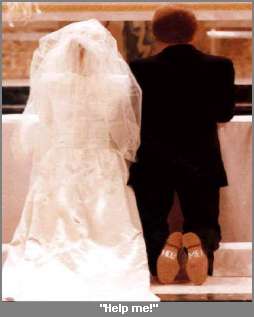 Hhahahhaha… Some wise groomsmen must've been at this wedding to make sure this funny wedding picture got taken right!
Hmmm….

Hahhahaha.. the best part of this funny wedding photo is the groom in the background holding his head in his hands!!!
It appears that the theme for this wedding was Meth.

Lol funny wedding picture.
The GroomZilla rearing his ugly rare head. GroomZilla is worse even than Bridezilla as this funny wedding pic shows!
How everyone, including the Groom, feels at weddings excepting only Bridezilla herself.
What is going on here?!! I don't think this is a photoshop job… if this is a true funny wedding picture, my hat goes off to the photographer and the people who set it up.

Wedding pictures at Burning Man festival.
Where's Arnold Schwarzennegger when you need him most?
Bridezilla is sad that everything isn't going her way.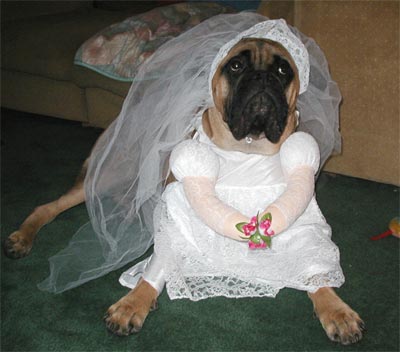 I think that dressing up animals in anything constitutes animal abuse and that people who participate in this horrific activity should have their dog or cat removed from their ownership.
Got someplace to be, little man?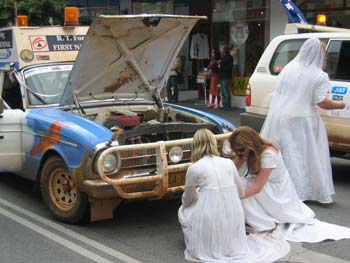 Hahaha cute funny wedding photo.
I love it when old men have as much fun as children.
You gotta get your pre-marital bliss slurpee.
Cute.
Cuter.
Cutest
Where's she going?
Going to be playing some ball after the funny wedding pictures are done with.
The greatest bride in history. Let's just see if she eats it.
I think that this is just a series of funny wedding photos waiting to happen.
Wowser.

Crazy funny wedding pictures.
SARS does not make for very funny wedding photos.
I feel sorrier for the little girl with dozens of boring wedding photos still ahead of her.

"WAAAAAAAAHHHHHHH"
That is not a laugh, it is a cry of pain. Only funny wedding photos can capture the true emotions of people who go through with putting the dreaded shackles of love (ie wedding rings) on.
If only this wedding photo were just a joke. Usually after men get married their wives take over their lives and crush their spirits. Men who are married are rarely allowed to do fun things and usually are completely owned by their wives.
Voodoo wedding photos.
Not quite sure what is going on here again.
I sure hope that water balloon is FROZEN!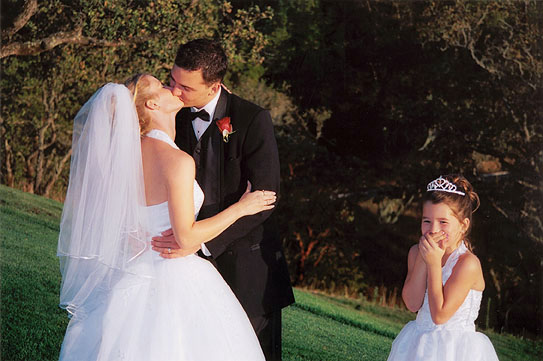 Super Cutesy.
Say hello to the Nose. Funny wedding photo with Larry the Cable Guy.
"Pant Pant, I wanna eat dem fingers!"
What a stud.
The runaway bride two hours later.
Wow, that is true talent.
Something tells me that this best man had his last funny wedding picture ever taken… because Bridezilla made him pay.

I have said that some of the wedding photos before were cute, but I think this one takes the cake.

2004 must have been a good year for funny wedding pictures.
"ummm…. why is my GROOMSMAN proposing to me on my WEDDING day??!?!"
Bridezilla is going on a rampage!
What in the world is going on in this funny wedding photo?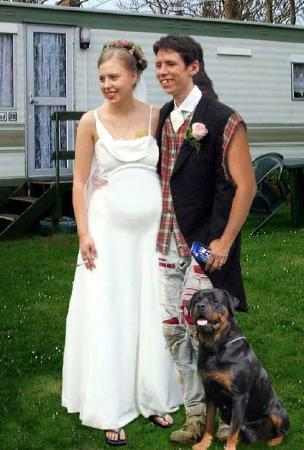 Hahhahahaha…. perfect wedded bliss can happen anywhere… and make for some great funny wedding pictures!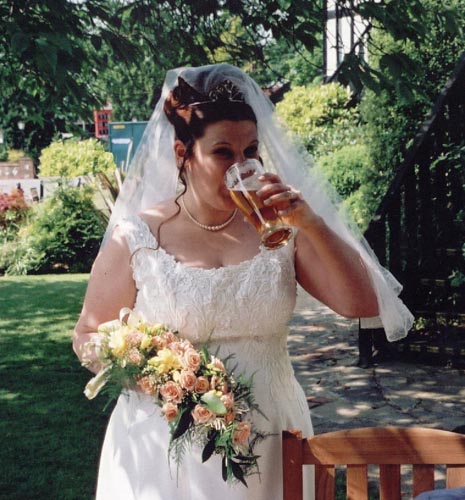 "Quick! Tap the other keg, it's a bridezilla drunken rampage!"