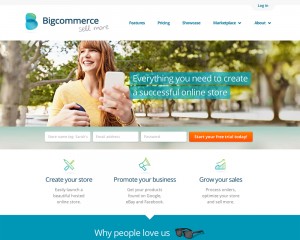 BigCommerce is relatively new to the world of eCommerce platforms, but in just over 3 years, the company has risen to become one of the biggest powerhouses in the shopping cart industry. As a certified BigCommerce partner, I have worked with every aspect of the platform, from design, to development, to marketing, to search engine optimization (SEO), and I can personally attest to the fact that BigCommerce is the real deal. If you use BigCommerce, or are thinking about using it, you can skyrocket your business with the help of custom BigCommerce designers and developers.
A Brief History of BigCommerce
BigCommerce was launched back in August of 2009, but it has already carved a powerful niche for itself alongside established companies like Volusion and Magento. The company now serves more than 25,000 online stores in more than 65 countries, and continues to become bigger and more influential by the day. You can check out the free trial for yourself and see what all the fuss is about.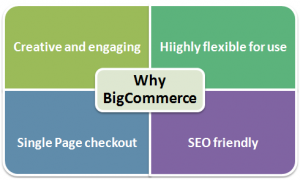 Why Hire Custom BigCommerce Designers and Developers?
BigCommerce is a powerful platform, which includes every necessary tool for building your brand, dazzling customers, maximizing sales and dominating the search engines. But without the right partner by your side, you probably won't get the most from these incredible features. For example, Adobe Photoshop has everything you need to create amazing digital images, but unless you have a background in graphic design, you aren't going to be able to use the software to its maximum potential. The same holds true for eCommerce software.
A trained and experienced BigCommerce partner understands exactly how to get the most from BigCommerce, so that you can enjoy a site that is truly your own, and achieve the best possible ROI as a result. Stock templates and default layouts will only get you so far, and they lack the originality and professionalism needed to build a brand.
Custom development enables you to truly optimize your site for conversions and search engine exposure. You have likely heard terms like "conversion optimization" and "search engine optimization;" these essential ingredients begin in the development stage. A properly optimized site ensures that your site is effectively crawlable by the search engines, and contains the kind of layout necessary to pull in customers and encourage sales.
Custom design enables you to set yourself apart from your competitors, with personalized logos, banners, website images and layouts. These distinctions are essential for serious businesses, and by making the best impression with site visitors, you ultimately maximize your sales.

How to Choose a Developer and Designer
The first, most important issue to consider when choosing a BigCommerce designer or developer is partnership. In other words, is this developer a certified BigCommerce partner? BigCommerce partners use the shopping cart on a regular basis, they have access to all of the support, and they understand how to best integrate design and development features within the confines of the platform.
Second, it's important to consider your specific needs. Are you looking exclusively for design work, development work, or both? If you need both, you will want to choose a partner that specializes in both design and development. My company, Coalition Technologies, employs a full-time staff of expert designers, developers, and marketing gurus, so you can get everything you need in one affordable package. If you're interested, call us for a free quote at 1-888-800-9101.
When choosing a developer or designer, ask to see the individual's—or company's—portfolio, and ask them about the companies that they have worked for previously. Get to know your prospective designer and developer, and find out everything that you can before investing your hard-earned money. After all, you want to go with the best, most professional choice possible if you want to ensure the maximum return on your investment.
 Why Choose Coalition Technologies?
As previously emphasized, Coalition Technologies hires a full time team of designers, developers, marketers and SEO experts. Each employee specializes in their given trade, so when you choose Coalition Technologies, you will have the benefit of multiple experts on your side, rather than a "Jack of all trades, master of none" developer/designer. Our Los Angeles based experts work together to optimize your full site, ensuring that no stone is left unturned and that every facet of your site is optimized to promote the maximum sales.
At Coalition Technologies, we bring together some of the nation's leading designers and developers. We are a certified BigCommerce partner, and we work with all of our clients on a proactive level. In other words, we take the time to learn all about you, your business and your industry, and we work alongside you every step of the way.
If you would like to learn more, check out our portfolio, or learn more about our BigCommerce services. To learn exactly how we can help your individual business, give us a call for a free quote at 1-888-800-9101. We look forward to working with you.