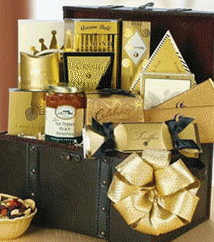 The Belengift pure gold care package is one of a kind in class and taste. Whether you are sending a care package for a loved one or for a corporate event, you will impress everyone with the look and quality of this specialty care package. The pure gold package is especially elegant and classy and will allow you to give the gift of a care package with the elegance of a variety of tasty treats.
Belengift offers hundreds of customizable and pre-designed gift packages for any occasion that you could ever think of. If you have a special occasion coming up, or just want to show someone that you care, give them the gift of the Belengift pure gold care package and show that someone special that you only give the best. These are ideal for either a single person or a group of people. The variety of chocolate treats and delicacies in this gift package are some of the best around and a high level of quality goes into each and every one of Belengift care packages.
This Belengift pure gold care package comes in a quality made leather chest, that is great for giving the assortment of treats as well as serves a purpose for a lot of use after the treats are gone. The chocolate treats that are included in this gift set include moonstruck chocolate bars, Seattle chocolate's celebration truffles, Aaron bell almond studded caramel coated popcorn, pretzels with Rothschild's hot pepper peach preserves, cassil and klein cranberry twist mix, almond biscotti, cocoa, brown and Haley's almost roca, pacific gold pistachios in the shell, Hathaway's citrus candies, lemon drops and Seattle chocolate truffles.
This care package makes it an excellent gift for anyone on your list including business executives, co-workers, friends, family and others. You will impress whoever receives this beautiful care package with the taste and sophistication that it brings. Not only does this specialty care package have a lot to offer in taste, but also the leather chest that holds all of the treasures, is handcrafted and beautiful in design. Whoever receives this bounty will be happy to enjoy the leather trunk for years to come by finding plenty of uses for it.
This care package is a great way to show someone that you are full of class and only offer the best in gift giving. No matter who is on your list, there is no body that would not be impressed with this pure gold care package. Belengift has been around for years offering the best and most tasteful of care packages and specialty care packages. When you give the gift of a Belengift care package, you can be assured that you are truly giving the best in quality and taste.
This specialty care package also can make a great way to share with the whole office. Everyone can have a taste of what this care package has to offer, and it is an affordable way to give the gift of chocolate and pure gold.