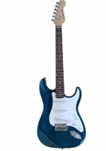 The Fret Guitar 39 inch transparent blue electrical guitar with belt is one guitar you do not want to pass up. Whether you are a novice or can play like a pro, this electric guitar will bring you hours of enjoyment, not to mention really impress your friends with your talent.
This 39 inch transparent blue electric guitar from Fret comes with a belt for easy play and handling and you will be able to rock out those riffs without having to balance the guitar. You can have the movement you need to play the guitar in style with the blue electric guitar from Fret. It also comes with a nylon bag for easy storage and protection of the guitar when it is not in use or when you are taking it along with you to play.
The lightweight design of the blue electric guitar from Fret makes it easy to handle whether you are new to playing the guitar or have been playing for years. The beautiful transparent blue color will leave your biggest fans entranced and the sound quality of this electric guitar will amaze even the biggest critics.
The blue electric guitar from Fret also comes with an extra string. This can always come in handy when you have a mishap with a guitar string and need to replace it. You will not have to worry about it happening with your extra string that comes with this set and can be stored in the nylon bag. The construction of this blue guitar is high quality and has a solid base construction. It is made out of basswood and has a truss rod neck. The rose wood fingerboard has twenty two frets, 3 single coiled pickups and a 5 way selector.
These features and more make this blue electric guitar by Fret a true diamond in the rough. It has a full face pick guar, a standard tremolo and is covered. You will not believe the craftsmanship and quality that goes into this blue guitar. For the money, you will have a hard time finding any other guitar that can even be close to measuring up.
Whether you have never played an electric guitar, or you play all of the time, this guitar set has something to offer everyone. If you are playing at home or playing a gig, you will still get the high quality look and sound that the blue electric guitar by Fret has to give you. Impress yourself and your fans with the stylish blue guitar that will be having everyone want to hear more from you and keep your fans entertained for hours. The lightweight design and belt makes it comfortable to play for hours on end and not get tired. You will have many hours of enjoyment with this electric guitar.