Have you been hunting around for the right treadmill desk to buy, but having trouble deciding on which of the major treadmill desks is right for you? I had the same problem for the last year since there was no good treadmill desk reviews online, so I've decided to give back to the world a little bit and write my own thorough treadmill desk review here to share all of my hard earned knowledge.
Treadmill Desk Reviews: The Most Popular Models & Manufacturers
I carefully tested and reviewed each of the most popular models and manufacturers of treadmill desks before making my decision to purchase. Below I have listed each of the most popular treadmill desks:
Ultimately, I selected to purchase the Lifespan Fitness Treadmill Desk DT-5. Lifespan Fitness has an excellent reputation as a manufacturer of commercial treadmills for gyms.  If you've ever used one of their commercial treadmills, you will easily recognize their Lifespan Fitness Treadmill Desk DT-5 which incorporates many of the key features that it's commercial gym brothers and sisters have:
Solid steel frame that prevents any wobbliness or shaking.  Wobbliness and shaking were the primary downfalls of the other treadmill desks I reviewed.  You can't type on your computer or write if the desk is wobbling.
Ultra silent treadmill motor.  At 1 mile per hour or lower the engine is absolutely silent.  Literally my central air conditioning is louder.  At 1-3  miles per hour the sound is still quieter than the air conditioning. It sounds about as loud as a quiet whisper.  At the max speed of 4 miles per hour (which is absolutely impossible to actually use when you work since you have to jog lol), the sound is equally as loud as my air conditioner.  Your footsteps will be much louder still.
Huge Walking Surface Area: The Lifespan Fitness Treadmill Desk TR1200 has an epic walking surface of 20″ x 56″.  That is enough space for you to actually run if you needed to and at the typical slow walk you will be using while utilizing a treadmill desk is an enormous amount of room.
Large Desk Surface: The desk is thick and rock solid.  The only problem with it is it is very heavy and difficult to adjust by yourself without a helper.  However, I am happy to make that trade-off so that my desk is absolutely rock solid.  I can fit two 17″ laptop computers, an external keyboard and mouse, a printer, and my notepad and phone all on the desk area pretty easily.
Cable Management System: The Lifespan Fitness Treadmill Desk TR1200 DT-S has obviously been very well thought out as it includes a cable management system to keep all the wires out of your way and from getting caught in the treadmill (a frightening experience that the other treadmills can cause!)
Well-placed Control Console:The control console is a nice small bar placed slightly underneath the desk for easy convenient access to change speeds or look at your stats. You can pause the treadmill and go do other things and thing come back and resume it so you can keep track of your total time & distance for the day. The control bar includes stats like:

Time
Steps
Distance
Calories
Speed

Ergonomic wrist/elbow rest: The guys over at Lifespan Fitness really thought of everything on this treadmill.  It's obvious they must use the treadmill themselves while at work.  The Lifespan Fitness TR1200 Treadmill Desk has elbow/wrist rests so that while you are using the treadmill desk you don't get any overuse injuries.
OVERALL ASSESSMENT: Easily the best option out there for both the dollar value you get and the features included.  I believe that this is easily the best treadmill desk on the market at this time and it is cheaper than some of the others too!
---
The TrekDesk Treadmill Desk is just a desk – it doesn't come with a treadmill! You pay $479 for a big plastic wraparound desk that wobbles pretty badly. I tried this one out and it was a joke.  I also read other reviews other people posted online and they talk about stability problems as well. Basically the idea is that you buy this desk and set it over the top of your existing treadmill.  You will end up paying $2,000 for a regular walking treadmill that will be pretty loud + $479 for this junky wobbly desk.  Totally not worth it in my opinion. When you compare the TrekDesk Treadmill desk versus Lifespan Fitness Treadmill Desk TR1200, the Trek Desk comes up severely lacking. Features include:
Cupholders – these are necessary because the desk itself is so wobbly you will spill your morning cup of coffee all of your laptop.
Desk space – the desk space is actually larger than the Lifespan Fitness Treadmill desk which is nice.  I like to keep lots of stuff on my desk while I work; books, cords, two monitors, sometimes two laptops, paperwork, pens, etc.
Desk only supports 55 pounds – Basically don't lean on it too heavily or it will break.  Weak sauce.
No wire management – The Trek Desk's lack of a proper wire management system plus the fact it doesn't come with its own treadmill means you are likely to see your wires get sucked into the treadmill belt and electrocute you.
4 level file tray – I guess this is a benefit….
---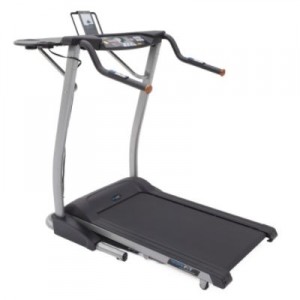 The Exerpeutic 990 Workstation Treadmill Desk is the low end entry in the treadmill desk world.  It is primarily sold in Wal-Mart stores for $789 which makes it about $400 cheaper than the Lifespan Fitness Treadmill desk.  The cheap price is about all that recommends it though.  I walked on this wobbly tiny piece of crap for three minutes before I decided that I absolutely hated it.  The desk area is tiny, the walk space is tiny, the whole thing wobbles like an earthquake, and it feels like it will last about three months after you buy it.  To be completely fair though, let me talk about some of its features:
1.5 hp motor: this is actually a good motor compared to most treadmill desks and is pretty cool
Treadmill belt is 40″ x 20″ – too small!  I kept sticking my feet on the sides or front or almost falling off the back. Maybe that's just my clumsy self though.
Weight capacity 400 lbs: Perfect for 80% of Wal-Mart's customers!  The other, heavier, 20% are going to need a better treadmill.  Low blow!
LCD Display window for time, distance, calories, speed and heart rate.  This is a pretty sweet feature, though the LCD can be slightly distracting to have flashing by your head.
2 cup holders – perfect for holding your coffee while the whole contraption shakes back and forth several inches at the top as you walk.
---
The Signature Treadmill Desk 9000 is pretty ridiculously overpriced at $2,645.  The maple top is probably the best feature, but other than that it is not any better than the LifeSpan Fitness Treadmill Desk shown above.  The structure is about equally solid, the treadmill used is the Gold's Gym Trainer 480 which has multiple bad reviews online.  It frequently requires a professional to come out and make adjustments to tighten the belt and fix other issues that can arise.  Here are the features of the Signature Treadmill Desk 9000:
Powerful motor: The motor is a 2.25 hp treadmill motor which is a nice feature but it is also really noisy.
Inclines: Unlike most treadmill desks this one actually has different levels of incline which is a great feature.
Well Built: Reasonably solid structure for the whole thing
Overpriced: The price is more than double than the Lifespan Fitness Treadmill Desk and is triple the Exerpeutic Treadmill Desk
---
Ikea Treadmill Desk (DIY) -Varying Costs
For those of you who are adventurous you can create a do it yourself treadmill desk by hacking an Ikea desk up and installing it over the top of an existing treadmill. I saw a number of different pictures from people who did Do-It-Yourself Ikea Treadmill desks and most looked pretty scary to build to me.  Plus I don't understand why you would spend a ton of money to buy a used treadmill and hunt around on Craigslist for a used Ikea desk.  Basically you will spend $900 on a used treadmill and $200 on a used Ikea desk, basically amounting to the same cost as the Lifespan Fitness desk above, then you still have to try and piece everything together.  No thanks.  It will take you 10 hours of Craigslist hunting and searching and driving around to assemble the pieces and then another 4-5 hours trying to get it all to work together.  Finally you end up with a hacked up amalgamation like the pictures below… who wants that ugly monster in a professional office?