Inbound marketing is one of the most powerful ways to drive traffic and even brand loyalty to your business. Blogs, newsletters, informational resources and videos are just a few of the tools that you can use to bring new customers or clients to your proverbial online doorstep every single day. But inbound marketing carries many challenges, and requires a strong game plan. As the founder of a leading Los Angeles inbound marketing company, I have witnessed firsthand how seemingly simple marketing efforts—when properly executed—can bring even fledgling businesses to new heights of prosperity.
Why Inbound Marketing?
Inbound marketing is one of the most effective ways to drive traffic, because it brings your target customers straight to you. Whereas outbound marketing is all about overwhelming the public with often unwanted calls, emails and proposals, in the hopes that a few people will bite, inbound marketing gives the people what they already want, thereby allowing for the greatest number of leads.
How Inbound Marketing Works
Let's assume that your website sells power tools. A strong inbound marketing effort might include a blog with helpful How-To guides for using power tools around the house. It might also include a YouTube channel with power tool tutorials, a variety of social media profiles with active user engagement, and a targeted SEO campaign to ensure that your website is easily accessible to web surfers seeking the kinds of products that you offer.
When people see your videos, your articles and your site content, they are compelled to buy. They witness the value of your products firsthand, and since they were searching for tool-related content in the first place, you already know that they are interested in power tools.
Inbound marketing is also great for small businesses seeking to gain a competitive edge over the big corporations. Using the aforementioned marketing techniques, you can inspire confidence in the public by demonstrating your expertise. For instance, if you own a small tax firm, you can establish yourself as an authority on taxes by providing useful, expert information to the public. This results in greater consumer confidence, and ultimately greater success for your business.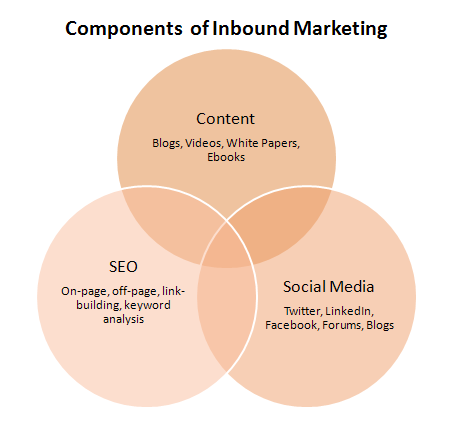 The Challenges of Inbound Marketing
Effective inbound marketing can take your business to new heights of success, but it isn't easy. In order to achieve the desired result, an inbound marketing effort must be strongly articulated, relevant, creative, persuasive, professional, and of course, highly visible. That's where search engine optimization (SEO) comes into play. Even if your marketing resources are rock solid, they won't do you much good if the public can't find them. Strong inbound marketing requires not only passion and creativity, but also a healthy dose of tech savvy.
Choosing an Inbound Marketing Company
If you want to benefit from a truly spectacular inbound marketing campaign, you will need a professional helping hand. There are many variables associated with inbound marketing, and it's a highly competitive game. An experienced company can help you to create the kinds of custom, professional marketing materials that will appeal to your ideal target customer base while also driving traffic and converting into real sales.
When choosing an inbound marketing company, though, make sure to do your homework. Ask to see examples of the kind of work the company has done, and learn specific details about the company's successes – or lack thereof. Don't be afraid to ask questions, and find out as much information as you can.
Coalition Technologies – Los Angeles Inbound Marketing Company
If you're ready to take your marketing efforts to the next level, give Coalition Technologies a call. Our professional marketers boast decades of combined experience, and our full-time SEO experts will ensure that none of your marketing efforts remain under the radar. We have helped some of the nation's leading corporations to increase and even multiply their traffic and sales, but we excel in aiding small businesses as well. Check out our portfolio, and give us a call at 1-888-800-9101 to receive a free quote.