Update: I have obtained a legal judgement against Ryan / Aaron Hoover of Ceed Civil now. Mr. Hoover has been successful in having negative reviews removed including mine elsewhere and may have uploaded fake positive reviews. Be warned not to do business with this guy lest he do to you what he did to me.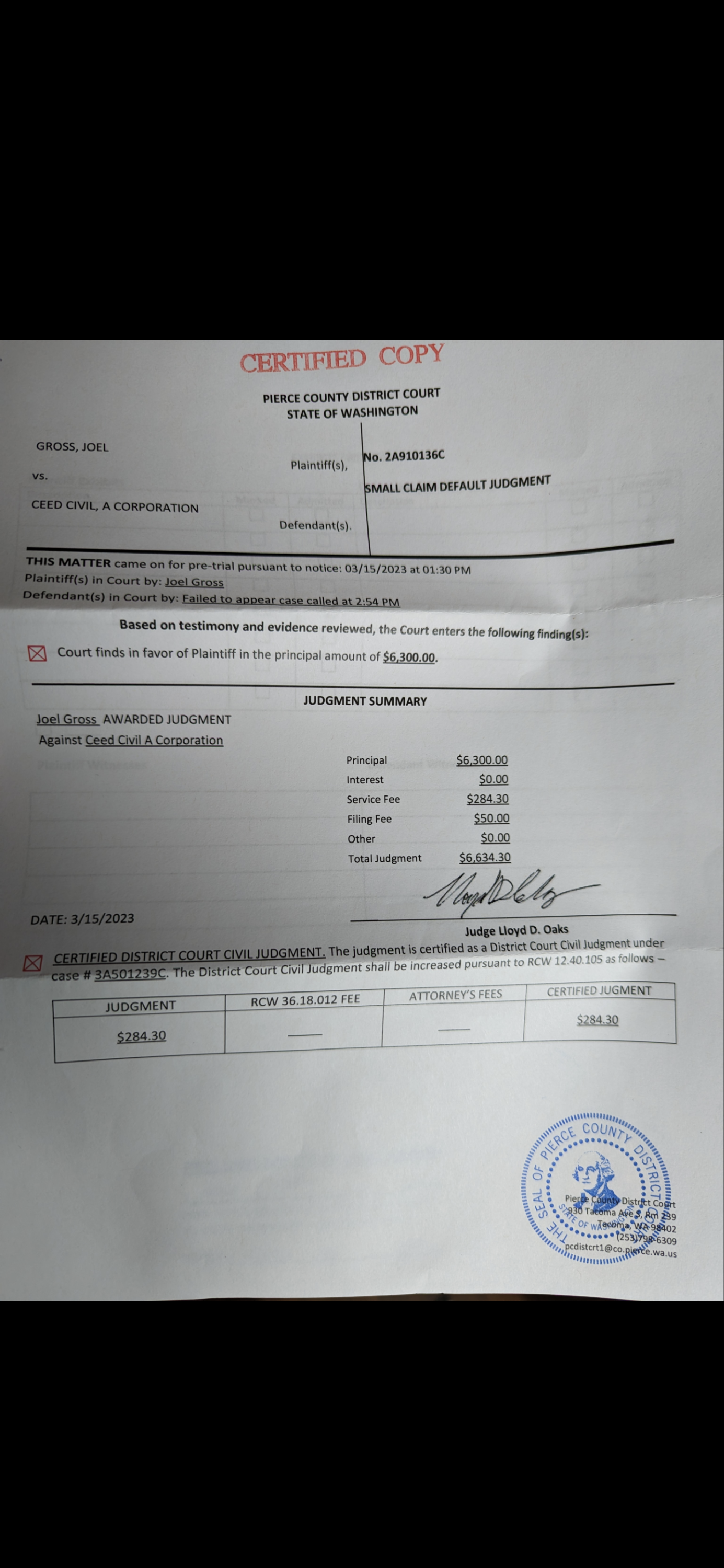 MY REVIEW OF MY HORRIBLE CUSTOMER EXPERIENCE WITH RYAN HOOVER OF CEED CIVIL ENGINEERING. As always, everything published here is my personal opinion and views of what happened. I paid Ryan Hoover / Aaron Hoover (he went by both names during our work together) of Ceed Civil Engineering $6,300 for very poor quality work delivered at a very slow pace.
I initially found him on Upwork when he submitted a proposal for a job I had posted. I sent him lots of emails with questions, many of which went unanswered. That should have been a warning sign to me, but I just figured he wanted to be paid first. However, even after we began work a lot of these questions / emails went unreplied to.
I made these notes during our one and only call prior to me signing his contract and sent the notes to him:
— START CALL NOTES —
RYAN not Aaron. Sorry!
I am planning on doing a large luxury home after this, and a large shop, and possibly other sites in the future.
I am planning on doing a high end, more strongly built than average / code required ADU.
I became interested and learned a lot about building by watching a long Youtube video series by Essential Craftsman (130 videos) and other builders (RR Buildings, Perkins Builder Brothers). I am hoping to pay that favor forward by document this build process via video and blog posts. I was hoping to offer a copy of the plans free online along with my process. I would also be happy to link to you, which I think could drive you a lot of business in the future (I have a marketing company with 250 full time employees). I would prefer not to pay an extra $1200 for the plans and probably would pass on that for now at least unless you wanted to throw these in.
Challenging because it's location specific for a lot of stuff…. not ideal.
Structural elements and title page cannot be released… hard stop. Liability thing.
Work product for free not okay.
That's fine by me.
What is okay with him?
Architectural plans with his name stripped… need to make sure people don't try to take what he has and do it themselves. Video.
I could send it to him prior to releasing a video or something for approval.
I will submit docs for permits.
Is my plan as provided (the sketch + adjustment notes) clear? Do you have questions?
Does doing stone finishings on the lower half of the exterior building affect any of your plans?
How many rounds of editing or revision do we get?
At least 2 revision cycles with the county, they never approve stuff the first time. This is included, unless it is obscenely outside of normal details. 99% of the time not an issue unless permit guy goes crazy.
Scope adjustments… Changing from 9 to 10 ft ceilings would cost me more.
Process… Wife and I provide drawing and make it as accurate as I can… he will send over architecturals for review… move wall here or there, regular changes. No cost changes in architectural phase? Then it goes to structural… I can't change stuff in structural phase without additional cost (moving a window or whatever). Hourly cost. Structural portion is $200 / hr. He will provide cost change estimates in writing before doing them.
Does your software create general renderings and that sort of thing? What else do you and your software do?
Does not do renderings, just an engineering firm
All 2 dimensional plans
Could output isometric.
Corners of house looking down at it.
His includes elevations (all 4 sides of structure), top down view, roof plan
He could have a rendering person do renderings if we wanted it. Extra cost.
I have a call and email in to the county to try to get more information. I am not quite sure what you are looking for, do you have an example from another county you work with?
He can send this…. checklist that says elevation views, roof plan, foundation plan, etc.
Site plan?
Could pay by the hour… if it is just dropping in a box then that could be like $100 or it could be $10k if they needed super detailed stuff.
Decisions for Laurel and I:
What kind of windows do we want? what size? where do we want them?
Doors
Minimal cost in roof slope (trusses)…. 7/12.
Truss company will provide truss designs… send them to truss manufacturer for truss plans including calculations.
Standard trusses vs scissor truss. You can't get in there to work on them or maintain them…. better to have standard trusses if you need to get up there.
The price to draft the buildings to standard detail is 3000.
Mep detailed plans is an additional 2800
Structural calculations is 900
Any discounts?
Straight price.
— END CALL NOTES —
I thought Ryan Hoover of Ceed Civil Engineering sounded like a reasonable guy in this call. One thing not noted in the call notes above is that Ryan Hoover asked me to pay him directly without going through Upwork's platform or there would be extra costs. I foolishly agreed to this.
I then signed Ryan Hoover's ridiculously one sided work contract without really picking at it. Once again, I should not have blindly trusted him, but made requests to change it. His contract allows him to cancel at any time under his "Termination" clause and collect whatever money he dreams to be fit to collect. If you are someone thinking of working with Ryan Hoover at Ceed Civil Engineering – DO NOT SIGN HIS CONTRACT. Get your own made up, his is extremely advantageous for him and unfair to his clients in my opinion.
His contract also heavily frontloads payment – If I was you, I would not pay him any funds until work product is delivered, as you will see why soon. I paid $4,500 at contract signing.
Ryan also will not accept credit cards, so I was forced to pay by check. Once again, this was a bad idea that removed my safeguard of a chargeback.
I won't bore you with all the details of the back and forth during the work process, but I will share what I emailed him regarding my opinion of his work during this process when things started going awry:
— START EMAIL — (Please note that I was incorrect about my assumption of the work being from India, and I think I exaggerated the size of the additional billing. I was very frustrated by the poor quality work and lack of advice from him though. )
Ryan,
The process here has been incredibly disappointing, slow, and frustrating. I am paying a super premium price, but getting sloppy template work from India. I don't care if you use overseas team members to support you, but I expected a much higher level of quality assurance and advice from you.
All of this is designed in software that makes it very quick to build this and make these changes. I have a hard time seeing how these minor changes add so much in cost. Maybe 15-20 minutes per document worth of changes, if that?
The bigger problem is that this could have been avoided had you provided me the consulting we had discussed prior to me signing… please look back to my emails to you with lots of questions on these sorts of topics and others that went unanswered. Further, I expected that for such a premium price, I would be getting a lot of advice on the best way to approach this. Instead, you simply gave my work to an engineer in India who just did the minimum possible to convert my very basic idea to a plan and sent that back. I had to go to someone else to get the more in-depth advice I had expected you to provide.
The work provided has repeatedly been half baked (wrong address for the site from an old template, wrong state building code, lots of items missing from my initial email, etc).
The general contractor explained that in doing many of these projects, the costs for architectural and engineering typically is only $5,500. Now my price is over 50% higher than that?
I get further behind every day on my project due to delays here. We started this in April and I expected to be done in May… but now we are closing out July and the building season has passed us by.
I think maybe $500 extra is a reasonable compromise… I did not at all get the advice and services I had paid for, and that caused some changes to need to be made later. The work of implementing the changes in the software will be less than 2.5 hours anyways. And we need to lock in this price through permitting as long as I don't come up with more aesthetic changes. The price now is getting crazy high. You had quoted $1500 originally on Upwork.
I am leaning towards throwing in the towel with you and filing a claim with your insurance company, writing negative reviews, and seeing if Upwork will step in to make things right. I am extraordinarily frustrated and upset by how this has gone.
Joel
— END EMAIL —-
This was the beginning of the end. Ryan Hoover of Ceed Civil demanded payment for the rest of the original contract from me, which I made. When I followed up with an email titled "Finish strong" exhorting him to improve his work quality and timeliness, he responded with exercising his Termination clause of the contract (of course he collected that final payment first though).
Now I am in real trouble… the build season is more than halfway over and I have to start over with another engineer and I am out all the funds I paid Ryan Hoover of Ceed Civil.
I would HIGHLY RECOMMEND that you go with another civil engineer.