Over the last month, I have taken up the sport of rock climbing.  Three times a week I drive over to Santa Monica to go to my rock climbing gym, Rockreation.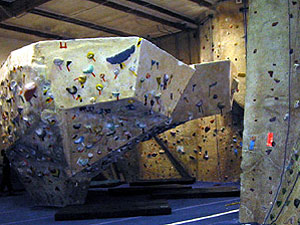 Rock climbing is a great sport for me and I really enjoy it for the following reasons:
Excellent physical workout – tones and strengthens your whole body especially your core and forearms
Challenging mental workout – it's like playing chess or solving a riddle each time you approach a new climb
Enjoy the outdoors – you visit obscure places and climb up interesting rock formations. Joshua tree especially is gorgeous
On Saturday, I went out to a rock climbing spot near Malibu with David (Paradiso Crossfit owner) and Jared (Crossfit member) and we climbed up Tic Toc Rock.  We did a couple of routes, one was a 5.8 and the other might have been a 5.10a.  It was a blast and afterwards we went and got a steak at a place near the beach.
I am planning on going to Joshua Tree to do some more rock climbing in early November. I have been out there twice before and that is what got me hooked on the sport.
Rock climbing has a few expenses associated with it:
Rock climbing shoes – I got a great pair for $160
Harness & carabiner & chalk bag – $100 for mine
Rope (not yet purchased) – $120
Quick draws (not yet purchased)- $15 apiece and you need 10-20
Helmet (not yet purchased) – $50
Bouldering crash pad (not yet purchased)  – $160
Rock protection (cams, stoppers, nuts, etc) – $10-60 apiece, need 30ish
Basically it takes around $1,000 to get fully geared up.  Pretty expensive, but once you've paid out for all of it you can climb for free for quite some time before needing to replace your gear.