At a recent dinner I had an interesting conversation with an American schoolteacher about economics and politics and eventually discovered that she was a socialist. Since I wanted everyone to enjoy the dinner, I didn't ask her more questions to find out the depth of her socialism knowledge or if she understood the effects socialist principles have on a nation. Most people in America, like the schoolteacher, believe in at least a few socialist ideas. In my conversation though most of these people have not thoroughly thought out their positions and why they support them. In this article, I will discuss the definition of socialism, the history of socialism and how various socialist principles have been embedded in the American government. I will end the article with a somewhat controversial proposition.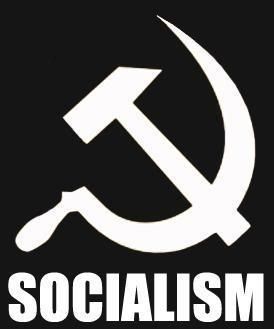 Definition of Socialism– Socialism is the mix of economic and political theories for organizing society that advocates collective ownership and management of the means of production, distribution of services and goods, as well as dividing everything equally. Socialist theories stand in opposition to ideas of free markets, private ownership, and individual responsibility. In summary, socialists prefer very large and powerful governments (China, the old Soviet Union, Cuba, and France to some extent). Capitalists prefer small & limited governments (United States, Australia).
History of Socialism– Socialism rose up in the early 1800's in response to some of the excesses of the industrial revolution. Robert Owens, Charles Fourier, Louis Blanc and other hated the inequality and poverty they saw in their countries and advocated changing the government to distribute the newfound wealth more equitably. Of course, before the industrial revolution EVERYONE was in poverty and though a few people had been left behind, the industrial revolution would not have happened without Capitalism and there would be no wealth to spread. Anyways, by 1847 Socialism had gained a lot of momentum and Frederick Engels began really pushing it. Around this time, socialist governments were installed in France and in Germany. Karl Marx wrote the seminal book on Socialism in 1848, "The Communist Manifesto". The Communist Manifesto's principles have been used as the bedrock for the establishment of most socialist societies that came later. Karl Marx believed that all of history could be explained by a series of class struggles between the bourgeoisie (rich & powerful) and the proleteriat (poor huddled masses). Marx advocated the overthrow of capitalist governments by a "Communist Party", and these overthrows actually took place in Russia, China, Vietnam and Cuba. The Communist Revolutions t
hat took place in each of these countries started out being fairly ideologically pure, but all of them quickly morphed into a new form of oppression: Totalitarianism. The Soviet Union (now Russia) collapsed almost two decades ago, but the aftereffects have shattered the country and now it is run by former KGB men who are essentially kings that rule with an iron fist. China is slowly morphing to a half-breed between socialism and capitalism, while still regularly crushing human rights. Cuba's revolution was led by Fidel Castro who after achieving victory, quickly converted the socialist government to a plain vanilla dictatorship. Pure Socialism as an economic and political system simply does not work and usually totalitarian governments rise to fill the power void (Stalin over Lenin, Castro taking over Cuba and Chairman Mao in China).
Fundamental Problems with Socialism- Why has socialism failed so miserably in all the countries it has been tried? Why haven't the passionate believers in socialism been able to make it work as a government? To understand why socialism has failed in such a massively tragic way in so many countries, you must think logically and use your basic common sense. What is socialism in its most basic form?- Socialism is where EVERYONE is employed by the government, works for the government and is paid by the government. Unfortunately, governments in every form in every country throughout history have been ridiculed for being
inefficient bureacracies. The bigger a government gets the more opportunities for inefficiency are created. Why is this? It's because human beings are genetically programmed to be selfish and take care of themselves and their families before strangers. Think about it: if I gave you a thousand dollars, would you split it equally amongst all your friends or would you keep it and buy yourself something or save it? Obviously you keep it for yourself. People prefer to take care of their own needs first. In a socialist government, someone must have power over other people in order to spread goods and services to everyone. This is where corruption enters the picture- the people in power are inevitably tempted to give themselves a little extra… then a little more. Absolute power corrupts absolutely. All of the other people see this and become disillusioned with their government and start slacking off at work and taking what they can get too. Eventually, you wind up with an entirely rotten country that falls to pieces (Soviet Union). In the process, tens of millions of people are slaughtered (up to 60 million under Stalin and up to 43 million under Chairman Mao's "Great Leap Forward"- which reminds me of the New Deal lol).
The other factor that socialism ignores is the basic principle you read about in every Psych 101 text ever written: Rewards and Punishments. Socialism removes the rewards for working hard and instead installs punishments. Why would you work harder when no matter how hard you work, you still get your same loaf of bread and bottle of water? Why would you put in 80 hour weeks when there is no mansion in the suburbs or Lexus in the driveway or trophy wife to shoot for? Instead of having these capitalist rewards for working hard, you are punished because if you work harder than the people around you, you are seen as trying to stick out and not be absolutely equal with everyone else. Nails that stick out get hammered.
Socialist Countries and Totalitarianism- Socialism is not just a cute idea for hippies, lazy people and those who think it sounds "nice". Capitalist countries that implement socialist ideas inevitably begin a downward spiral through socialism and into totalitarianism. America has been in this slowly accelerating death spiral since the late 19th century and is picking up speed now with all of the socialistic bailouts of poorly run companies (AIG, Fannie Mae, Big 3 auto companies, etc). You are probably thinking to yourself that I'm exagerrating and things aren't that bad… but you're wrong. Unless a powerful politician who believes in the principles America was founded on we are going to be led astray by popular politicians like Barack Obama. I think Barack Obama is a genuinely great guy and that he is very smart and has America's best interests at heart… but he's the type of guy who tries to solve all the problems of a government himself. Anyone who tries to do that ends up having to take more and more freedoms away from the people in order to try to save them. If it wasn't for World War 2, FDR would've continued to amass power until America was a full on communist country. Fortunately after WW2, Truman and others during the late 1940's and 1950's handed much of that power back to Americans. Other countries have not been so fortunate and these countries citizens have seen their freedom, culture, religion, individuality and even their very lives robbed from them by their totalitarian government. Chairman Mao in China thought he was going to do all of the Chinese people a favor with his "Great Leap Forward", but he ended up
ruining his countries agriculture and industry and tens of millions of people starved to death and millions more were murdered for opposing his policies. This is why it is vitally important to stand up against the slow infiltration of socialism into American government and society.
Socialism in Education- Education for individuals under the age of 18 in America is under the control of the government. Ever wondered why public schools are constantly failing and it always seems like there is a "crisis in American education"? It's because much of the American education system, especially for minors, is government controlled. In 1840, before the advent of public education, the United States had a literacy rate of 97%- which was one of the highest rates in the world at the time. After the Civil War, the government stepped in and established the public education system in order to try to help recently freed African American slaves. By 1900 all children up to the age of 14 were required to attend school. Private schools were still pretty dominant and teacher's worked hard to ensure that their students understood the material they needed to learn. Unfortunately, in today's public schools it is almost impossible to fire incompetent teachers and equally difficult for teachers to try to improve on their curriculums. Public education sounds like a great idea in theory, but let's think about it further. I agree with mandatory education laws so that parents can't abuse their children and everyone gets a fair start, but I think that schooling should be done through private and charter schools instead of being forced into the public scho
ol system. Each student should have freedom of choice in which school to attend (just like college), and each student should receive a set amount from the government that follows him to whatever school he wants to go to. The system I am proposing isn't perfectly capitalistic, but it adjusts to make sure that every kid has a fair shot at a good education.
Our current system encourages our teachers to preach socialist principles to our children (the teachers get pay raises from voters and if they teach socialist propaganda to students they are more likely to get more money). We must stop the government from indoctrinating our youth with socialist propaganda. Education (at least till age 14) should be free & mandatory for all, but in order to save America's future, public schools should be abolished and replaced with a system of private & charter schools.