The 12 ton air & hydraulic bottle jack is just what you need to get the jobs done that you need to do. This is a 12 ton air hydraulic jack and comes with an adjustable screw rod that can adjust for operating height and also comes with an on and off switch. This bottle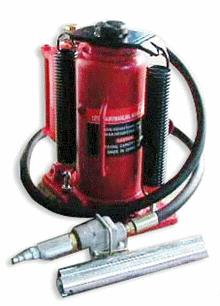 jack will surely deliver quality and performance to you when you need it.
This is a high quality hydraulic jack that will not leak and will not lose pressure. If you are tired of working with other air jacks that continually leak or lose pressure, you will know how important it is to find a good 12 ton air & hydraulic bottle jack that you can rely on to get the job done right the first time without the delays of a hydraulic jack that cant stand up to the tests.
The 12 ton air & hydraulic bottle jack is easy to use, has a reasonable structure and provides safe and reliable use every time you need it. It can operate either manually or with air. This is key for those of you who require different types of operation based on the needs of your jobs. Whether it is for lifting, pushing, spreading, pressing, bending or straightening requirements that you are looking for, the 12 ton air & hydraulic bottle jack is what you need. It is also safe to use in any temperature, even hot or cold and it can work in an angled, horizontal or upright position to accommodate the job you need to do.
It also has a safety overload system that can prevent the bottle jack from being used beyond the rated capacity it is designed for. There are not a lot of air jacks that offer this feature, and it is one of the ways that the 12 ton air & hydraulic bottle jack will quickly become one of your favorite tools for the job. It is small in dimension, but don't let that fool you; it also has a larger capacity for carrying and offers high pressure resistance performance.
It has a lifting range of 10 4/9 inches to 18 ½ inches. It also has a minimum air input of .7 MPA and a maximum air input of 1.0 MPA. The pneumatic pressure of the bottle jack is 120 -200 PSI and the maximum capacity is 12 tons. This makes it perform well for any size job that you need it to do. At around $100 it is worth the investment, and will prevent you for having to buy other air jacks in the future.
When you are looking for a bottle jack that can do the job right the first time, and one that you can depend on, the 12 ton air & hydraulic bottle jack is the right tool for your jobs. This air jack will save your back and physical labor and save you time.