The Aira cosmetics signature mink eyelashes are classy and beautiful. You will be able to flutter your eyelashes and get noticed with these elegant looking faux lashes. The best thing about them is that for an affordable price, you can look like all of the glamorous actresses that rely on them to enhance their own lashes and eyes without the uncomfortable look of other kinds of fake lashes.
Get the look that all of the celebrities are raving about. Mink eyelashes are being donned by famous celebrities everywhere who are looking for the look of beautiful, full, long lashes to wear. You can also share in the new rave by getting the Mink eyelashes from AIRA. These eyelashes are made of individually picked mink hairs that are only harvested by brushing and grooming the live animals. There is no animal cruelty or animal endangerment involved in the production of the mink eyelashes.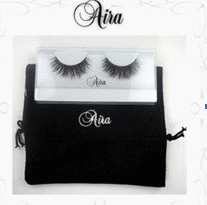 They are also hypoallergenic and come with a beautiful suede pouch for easy carrying and storage. They also come with a full set of instructions of how to apply, wear and store the mink eyelashes to ensure that you will be getting the most out of your eyelash wear and longevity.
Until recently, mink eyelashes were a luxury that was only enjoyed by celebrities and the wealthy. Now, AIRA has made it possible for anyone to enjoy the look and feel of mink eyelashes without having to break the bank. The nice thing about the AIRA mink eyelashes is that you do not have to go through the pain and cost of getting eyelash implants. These mink eyelashes look and feel real, are comfortable to wear and you can remove them when you like.
Whether you like the look and feel of mink eyelashes for a special event or for everyday use, the AIRA mink eyelashes are just what you want. They are easy to put on, care for and store. The suede carrying case makes it easy to carefully protect the eyelashes when you are transporting them or not using them. The helpful instruction guide that comes with them makes it easy to use them and wear them for hours of beautiful looking eyelashes.
AIRA cosmetics has been making quality cosmetic products for many years, and with their latest version of the mink eyelashes, they have truly shown once again the ability to provide quality and beauty for a small price tag. They make it possible for anyone to be able to enjoy wearing mink eyelashes without having to spend a lot of money. Most fake eyelashes on the market look cheap or fake, and do not have the elegant feel and texture of the AIRA eyelashes. Next time you are looking for a quality pair of eyelashes, consider the AIRA Cosmetics line of eyelashes.