Update: For those of you wanting to skip all the analysis & shopping cart reviews & ecommerce platform comparisons, the bottom line is that I recommend BigCommerce for building your next business. Shopify is the runner up. Also please note that there is a video of ecommerce shopping cart reviews at the bottom of the article.

As a professional web designer, I have had to test many different ecommerce shopping cart software systems.  I have read every shopping cart review online myself and am unsatisfied with their mostly lazy and inexperienced opinions, so I set out to create the thorough analysis that I wish I had been able to find. I have 11 years of experience building websites and run my own SEO & Adwords company.  I also have several  major ecommerce stores I personally own including one selling Digital Gauges. I have personally built and worked on sites on many ecommerce platforms including: BigCommerce (my current favorite), goEmerchant, Volusion, Fortune3, Yahoo Merchant, CoreCommerce, Zen-cart, Shopify, Godaddy Quick Shopping Cart, ProStores, 3DCart, Magento, nopCommerce, WordPress, VentureCommerce, Coresense, FirstData, IBM Ecommerce, LiteCommerce, and X-Cart.
My comprehensive ecommerce shopping cart software review for 2010 will only focus on the FOUR BEST systems (Bigcommerce, Magento, Shopify & Volusion) currently available.  The other shopping carts such as Godaddy Quick Shopping Cart, Yahoo Merchant and X-Cart are pretty crappy.  At the end of this review, I will give a paragraph summary of each shopping cart and why I don't think it's worth your time at this point.
Now that the introductions are over, on to the good stuff! Underneath of the chart of the best shopping carts, I have explained what each of the features are and why they are important and how the different shopping carts compare.
Overall Rating- The overall rating is my assessment of the quality of the entire system and how well it will work for most online businesses trying to boost their sales revenues.  Bigcommerce is the best shopping cart as of the writing of this review (July 27 2010) because it offers the most comprehensive package.  Bigcommerce allows you to have some major marketing firepower out of the box and is easy to use and setup for even newbies who can't code a lick.
Lowest Price- Lowest price refers to the entry level package price for the software system.  Magento has a free limited free version, but their first paid package starts out at a ridiculous $3,000 per year.  Shopify, BigCommerce, and Volusion all have the same price for an entry level package at $24/month.
Charge Revenue %- BE VERY CAREFUL HERE- Shopify charges 2% of all your revenues ON TOP of your regular payment gateway charges.  This is one of my biggest knocks on shopify and if you have a successful store they will suck your profits dry like a vampire.  BigCommerce is very straightforward- no percentage fees on top of your $24/month.
Setup fee- Volusion and Magento both charge setup fees.  Why pay a setup fee when you can use BigCommerce or Shopify without having to pay any extra ridiculous fees?
Quick & Easy Checkout- Vitally important for increasing your conversion rates, quick and easy checkout means that your customers have the simplest possible path to placing an order on your site.  Each page or step you add to this process means that you will lose many customers.  I have done extensive A/B testing on this (as has Amazon.com) that underscores this point.
Custom Titles- Being able to alter your title tag is very important for shopping cart search engine optimization (SEO).  As a seasoned SEO pro, my biggest problem with BigCommerce is that they tie your title tag to your URL.  So if I make a title tag that says "Super Duper Product", my URL must be http://www.example.com/super-duper-product.  Not good. None of the other shopping carts give you an easy way to do this out of the box either though.
Custom URLs- Another important factor for ecommerce search engine optimization (SEO) is being able to write your own custom URLs.  No shopping cart gives you an easy default way to do this and they all require hacking into their systems to get this right.  WordPress however has done an excellent job of allowing you to customize your URL as you please.
Custom Meta Description- Your meta description is the two lines of text that appear under the blue link in Google search results.  Not only is a good meta description important for ecommerce shopping cart search engine optimization, but it is like a mini-advertisement to get people to click on your link and get more visitors.  Customizing your meta descriptions will help you get more traffic to your website.
Google Analytics integration- If you are running any kind of business online it is vital to have good, reliable metrics for tracking your success.  Google Analytics is the leading website metrics tool and provides incredibly detailed and important reports.  Best of all- IT'S FREE! 🙂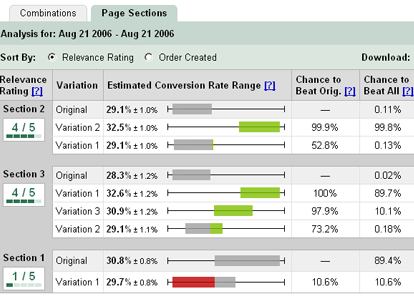 Website Optimizer integration- Only BigCommerce and Shopify give you out of the box integration with Google Website Optimizer.  Using Google Website Optimizer is key to testing out whether changing one element of your page or another increases or decreases total sales.  Every good ecommerce shopping cart platform in 2010 should have this as a core piece of functionality but sadly most don't.
Free Phone Support- I promise you that no matter how experienced of a programmer you are, you will eventually run into a roadblock you can't solve all alone.  At this point you will need to call your shopping cart's phone support hotline and it is vital that you be able to quickly reach a friendly expert who can help you resolve the problems you are facing.
Good Community Support- Like having free phone support, having a strong community of fellow shopping cart owners is key to resolving small day to day problems.  Every time you run into a question, you will probably Google search it and if you are using BigCommerce or Shopify you should be able quickly find an answer due to their large and active communities.
Photo Zoom- People like to see the physical products you sell up close.  Unfortunately we can't allow our customers to actually handle our product so we need to provide high quality images and allow our customers to zoom in close to observe the details.  Volusion and BigCommerce both offer good photo zooms for your products.
Easily Add Products- The most common task an ecommerce shop owner will face is adding, editing and deleting products.  Being able to do so easily and quickly is vital to leaving you enough time to manage your business.
Web designer required?- KEY QUESTION FOR NOOBS- If you aren't a great HTML/CSS/PHP programmer can you still build a site without having to hire an expert?  With both Shopify & BigCommerce you can easily work on your website without knowing a lick of code.  Most other shopping cart systems (Magento, Volusion, Godaddy, Yahoo Merchants Shopping Cart, Zen-Cart, X-Cart), even ones that purportedly do allow beginners to build a site, do require you to know some code in order to accomplish basic functions.
SEO Rating- As a search engine optimization freak, I have optimized hundreds of websites and driven them more traffic.  If you know anything about online marketing, you also realize that SEO is the key to making your online shopping cart work.  I used my knowledge of keyword research, on page SEO optimization, link building, duplicate content analysis, title tags, meta descriptions, page titles and everything else to assign each shopping cart an accurate SEO rating.
Conversion Rating- Conversion rating is a number that I have assigned to each shopping cart software platform to reflect how many of your visitors it will help turn into customers.  For instance, if you have 100 visitors and 4 people buy your widget, you have a 4% conversion rate.  There is no use in driving huge waves of traffic through SEO without having excellent conversion rates on your website.  BigCommerce offers the best tools for getting a better conversion rate out of the box including their top-selling products widget and their sweet & easy one step checkout process.
Facebook Integration- BigCommerce is the only shopping cart currently out in 2010 that allows you to easily sell your products on Facebook.
Ebay Integration- Once again, BigCommerce is the only shopping cart that allows you to easily push your entire inventory to Ebay with the click of a button.  The more channels you can sell your products through, the more money you will make.
Automated Returns System- Handling returns is a fundamental part of any retail store.  Unfortunately most ecommerce shopping cart systems don't allow you to easily and automatically handle customer returns.  Volusion and BigCommerce both make their returns management systems a core part of their system.
Good Default Themes- Unless you are a rockstar graphic designer, you'd probably like good default themes that you can use on your store with only a little customization to make it reflect your brand.  Every shopping cart allows you to use default themes, but Shopify and BigCommerce stand out above the rest for having the best default themes.
Quickbooks Integration- Most small businesses use Quickbooks to handle their accounting and taxes, so having an easy & quick to set up integration with Quickbooks is very important for a fully functional ecommerce software solution.  BigCommerce, Magento and Volusion all allow easy integration with Quickbooks.
WYSIWYG Editor- A WYSIWYG (What-You-See-Is-What-You-Get) editor is an easy backend that allows you to visually format (underline, bold, bullets, etc) your pages.  Basically a WYSIWYG editor offers the same functionality as Microsoft Word or Apple's Pages application.  Every modern shopping cart script allows you to easily edit your pages with a WYSIWYG editor.
Blog Integration- Publishing lots of content and blog posts is a good way to gain a following on your website for your product.  Good search engine optimization also requires posting lots of keyword-optimized content on your ecommerce application.  BigCommerce offers pretty good default blog setup.  I think the best way to run a blog on any of these shopping carts though is to put a blog on WordPress and point a subdomain's DNS at it.
Affiliate Conversion Tracking- Many shopping cart script owners run affiliate marketing programs.  Affiliate marketing is where you allow other website owners to make money off of pointing links to your site.  Each time a visitor from their site buys one of your products, you would pay them a sales commission.  In effect, these affiliate marketers are much like a traditional salesperson sitting in your brick & mortar store… only they are now digital.
Uptime- The worst nightmare of anyone who wants to setup an online shopping cart application is that the application will crash and the website won't work.  If sales are your lifeblood, uptime is your bones that support your body.  Shopify has had several major instances of downtime that has cost their customers untold amounts of money in lost sales.  BigCommerce has been extremely reliable in it's uptime.
Gift Cards- A gift card and discount code system will expand your sales capacities.  If someone wants to give someone a gift from your store, but they aren't sure which specific product their gift receiver would most want, then they will buy a gift card from you.  Discount codes are another important system for helping you advertise. A good discount code system will enable you to publish an ad that says "Click here to save $10 on your next product purchase" and then be able to track it and only give one discount per customer.  BigCommerce once again wins out in this category, though Shopify, Volusion, Magento, X-Cart, and nopCommerce are close runners-up.
Payment Gateway Integration- If you can't take credit cards through your website you will lose many customers.  Most people prefer to pay with credit cards and if you require people to mail you checks I promise you won't make any sales.  Even having only Paypal to take payments will hurt you conversion rates.  Shopify, BigCommerce, Magento, Volusion, Yahoo Merchants, Godaddy, X-Cart, nopCommerce, ZenCart, and almost every other internet ecommerce shopping cart script gives you the ability to take 3rd party payment gateway payments if you wish.
Paypal Integration- Every one of the four big shopping cart solutions reviewed here allows Paypal integration.  You have options to use Paypal Payments Standard, Paypal Express, or Paypal Pro on all of them.
Google Checkout Integration- Not all website ecommerce platforms allow you to have Google Checkout integrated- neither Volusion nor Magento make it very easy though it can be done by a skilled shopping cart owner.
Bestselling Product Widget- I mention BigCommerce's bestselling products widget here specifically because it is such a nice feature.  You are able to show on your sidebar of your website the top 5 bestselling products so that visitors can easily see what other people are buying.  Displaying this bestselling products feature increased the conversion rates on my Digital Auto Gauges website by more than 40%.
HTML Sitemaps (auto)- HTML sitemaps allow both your customers and search engine robots to find all of your content.  An HTML sitemap should be thorough and should list every single product on your ecommerce shopping cart platform.
XML Sitemaps (auto)- XML sitemaps are important for search engine optimization and allow search engine spiders to easily find all the content on your shopping cart website so that they can display it in their results.
Watch my best shopping cart solution review video below:
Below I have repeated my chart from above in HTML instead of an image for your reference:
| | | | | |
| --- | --- | --- | --- | --- |
| Features Needed | BigCommerce | Shopify | Volusion | Magento |
| Overall Rating (10= Best) | 9 | 7 | 5 | 4 |
| Lowest Price | $24/month | $24/month | $24/month | $3k/ year or free w/ no support |
| Charge Revenue % | NO | YES- 2 % | NO | NO |
| Setup fee | NO | NO | YES- $49 | YES |
| Quick & easy checkout | Yes | Yes | No | No |
| Custom Titles | Linked to URLs | No | No | No |
| Custom URLs | Linked to titles | No | No | No |
| Custom Meta Description | Yes | No | No | No |
| Google Analytics integration | Yes | Yes | Yes | Yes |
| Website optimizer integration | Yes | Yes | No | No |
| Free Phone Support | Yes | Yes | Yes | No |
| Good community support | Ok | Yes | No | Yes |
| Photo zoom | Yes | No | Yes | No |
| Easily add products | Yes | Yes | No | No |
| Web designer req'd? | No | No | Yes | Yes |
| SEO Rating (10 high) | 8 | 4 | 5 | 5 |
| Conversion rating (10 high) | 10 | 9 | 4 | 7 |
| Facebook Integration | Yes | No | No | No |
| Ebay integration | Yes | No | No | No |
| Automated returns system | Yes | No | Yes | No |
| Good default themes | Yes | No | Yes | Yes |
| Quickbooks integration | Yes | No | Yes | Yes |
| WYSIWYG Editor | Yes | Yes | Yes | Yes |
| Blog integration | Yes | Limited | No | No |
| Affiliate conversion tracking | Yes | No | Yes | No |
| Uptime | Great | Ok | ok | N/a |
| Gift cards | Yes | Yes | Yes | Yes |
| Payment gateway integration | Yes | Yes | Yes | Yes |
| Paypal integration | Yes | Yes | Yes | Yes |
| Google Checkout integration | Yes | Yes | No | No |
| Bestselling product widget | Yes | No | No | No |
| HTML sitemaps (auto) | Yes | Yes | Yes | No |
| XML Sitemaps (auto) | Yes | Yes | Yes | No |
The Bottom Line: BigCommerce is the best shopping cart platform on the market in 2010.