Tara and I visited Joshua Tree National Park on vacation Saturday & Sunday.  The trip was tons of fun, and since we went on July 24th it was extremely hot (113 degrees!).  Joshua Tree National Park is located east of of Los Angles, just past Palm Springs.  The Joshua tree is named by the Mormons after Joshua from the Bible because the trees have their limbs uplifted almost as if towards God. Below is a Google map of the location of the park:

View Larger Map
I uploaded the pictures in reverse, so I will start at the end of my trip. Below you can Tara driving a stick shift for the first time as I taught her. She picked it up extremely quickly and did well.  She drove us from the bottom of Joshua Tree National Park on down to the Salton Sea.
Below is a video I made of all the dead fish floating up on the banks of the Salton Sea. The Salton Sea was created in 1905 when the Colorado River changed course and put its entire volume into a desert basin for two years before engineers redirected it. Since then it has been growing 1% saltier every year as it is fed by salty creeks. It is saltier than seawater now. A century ago, 40-50 fish species lived and thrived in the Salton Sea but now it is only inhabited by the hardy Tilapia and they are dying off fast too.

Another video of the Salton Sea:
A tank on display out front of the General Patton Museum.  Yes, there is a General Patton Museum.  Awesome.
Militarized version of the duck driving tourists around in Seattle.
General Patton and I endure the heat.
Tara & Patton
Cactus in the middle of a giant patch.  Fall on one of these and you will regret it.
The cactus patch.
The famed Joshua Tree.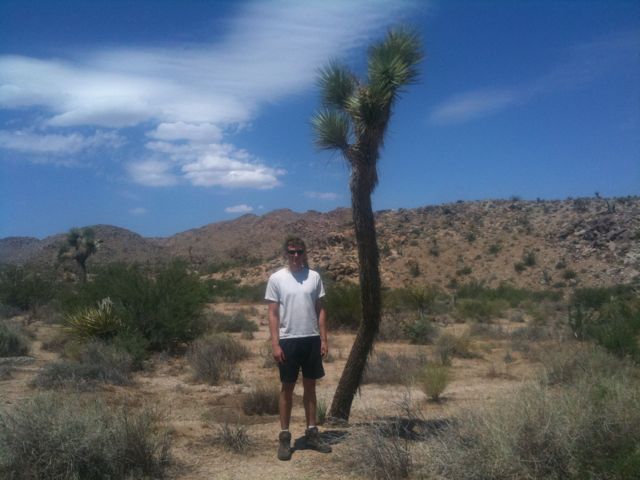 49 Palms Oasis.  Tara and I hiked in here in the morning through blazing heat.  Saw lots of lizards and hawks hunting lizards.  Had a big fight about whether ultralights are a reasonable form of transportation.
I made a video below at the actual 49 Palms Oasis. The 49 Palms Oasis consisted of a bunch of palm trees, stagnant water and interesting insects & birds (including quail and Roadrunners).

The desert sun scorching us.
Almost looks like Mars- lots of rocks and hills.
Another vicious cactus.
Tara and I in our sun protecting hats we bought for $6.99 apiece at Ross before we left.
Tara doing yoga on a picnic table in the morning.  It was only 8:30 am but already 85 degrees out.
The rocks next to the spot we camped.  Looked like fun climbing if only it wasn't so hot that you just wanted to lay in their shade.
Driving into Joshua Tree National Park.
Handsome
Our camping spot seen from above.  We brought excellent food (havarti cheese to dip into whole grain mustard, organic blueberries and strawberries, pita bread with hummus and also spinach & parmeson artichoke dip).  For drink we had Gibsons (Bombay Sapphire gin with cocktail onions served in Arrowhead plastic bottles with the tops cut off).  Good times.  Also had a full moon and a fire though it was still 90 at nighttime.