UPDATED REVIEW: BigCommerce vs Shopify Vs Zencart Vs Competitors
After comprehensive testing and review and comparison, I have determined that at as of late April, 2010 BigCommerce has by far the best offering for people looking at ecommerce software and am about to launch a new version of my product sales website Digital Temp Gauges on it.  I personally own and have built stores based on all 5 platforms: ZenCart, Shopify, BigCommerce, NopCommerce & Magento, so I have a deep understanding of the benefits and challenges of each one.  The following is my ecommerce review of BigCommerce as compared to Shopify, ZenCart, Magento & NopCommerce.
Factors to consider in an ecommerce software platform:
What factors did I consider to be the most important in selecting BigCommerce as my ecommerce software platform of choice?  As a professional web designer, SEO technician and conversion optimizer my number one goal was to find a way to maximize my bottom line.  The most important features for ecommerce software are:
Easy, one page checkout process
Custom URLs, Title tags, Meta tags, Page Titles, Alt img attributes, etc. for SEO
Search optimized internal navigation
Customizable design w/ very pretty basic templates
Powerful backend store
Comprehensive reporting
Integration with 3rd party software like Google Analytics, Website Optimizer, Live Chat, etc.
Pricing
Support
BigCommerce: What makes it stand above other ecommerce software?
My business partner and I did exhaustive research on many ecommerce software platforms, but in the end BigCommerce should head and shoulders above them all.  BigCommerce has some truly awesome features:
Completely integrated with Google Website Optimizer & Google Analytics
Awesome SEO- it's easy to customize title tags and meta tags unlike Shopify.  Great internal navigation.
1 page super simple checkout- no more losing customers to 4 step complex processes
Great photo display with photo zoom- your site looks super great with this feature
Ability to sell your products on Facebook and also push them to Ebay (coming soon)
Automated inventory control & very flexible returns system
Easy coupons, discount banners & gift certificates
More than 60 default designs, all of which are easily customized
Fully hosted- you don't need to worry about hosting, SSL, or other IT annoyances
Full CMS- if you don't want to do any HTML/CSS/Javascript/PHP you don't have to
Import/export thousands of products at once
Accounting system syncs with Quickbooks, MYOB, Peachtree, StoneEdge, custom formats
Shipping is made super easy & simple to use
Full business intelligence reports – 25+ performance reports (best keywords, revenue breakdowns)
Great search functionality, including suggest, related searches, advanced options, pricing, brand, etc
Problems with BigCommerce:
The Texas based office supporting US customers is not nearly as on point as their Australian based office.
BigCommerce was head and shoulders above every competitor, including it's nearest competitor Shopify in features.  Not only that, but it is a far better deal than Shopify.  Shopify 's cheapest package is the exact same cost as BigCommerce's in fixed cost per month… but Shopify charges you an ENORMOUS TWO PERCENT OF REVENUES PER MONTH at this pricing level.  You have to pay $700 a month to Shopify to get them to remove their take on your revenues!  BigCommerce absolutely blows Shopify out of the water in terms of features and pricing.  One of BigCommerce's greatest advantages is also their Interspire merchant gateway- no more dealing with 10 3rd party vendors like Authorize.net, FirstData and others to try to take care of your payments.
Before I found BigCommerce, I was a big fan of Shopify and recommended it to people: see the video I made reviewing Shopify as compared to ZenCart & others in the shopify section.  I haven't made a new video of BigCommerce yet, but you can see the official BigCommerce store video tour below:
Shopify: Great ecommerce software till you see BigCommerce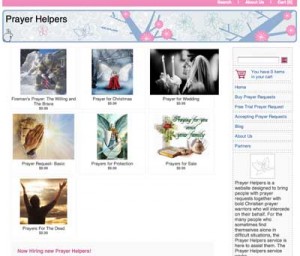 I have a Shopify store  – Prayer Helpers – and have enjoyed the super easy setup of shopify.  Shopify, like BigCommerce, is a fully hosted solution.  It does not have an integrated payments platform though.  The benefits of Shopify:
Abstracts away hosting, SSL & security
Store automatically updates with new software (same as BigCommerce)
Incredibly simple to setup products (though customization must be done in their weird coding language)
10 default templates to choose from.
Discount codes
Solid support
My problems with Shopify:
You have to figure out Liquid, their programming language, just to change title tags & meta tags
Waaaay overpriced.  They want 2% of your REVENUE (not profit).  Low margin stores beware!
Why do they force shop owners to use liquid instead of a more common framework? Annoying.
ZenCart: Free to download, costly & difficult to customize
ZenCart is an older open source ecommerce solution that has not been updated in a while.  I used it on the old version of my Digital Auto Gauges website that I have since moved to BigCommerce.  I really don't like ZenCart at all anymore due to its unwieldy architecture, Byzantine admin area, and difficulty to make changes.  ZenCart's features & benefits are:
Free to use
Good for newbies who have lots of time to learn & not make profits
Problems with ZenCart:
You must host it yourself, setup your own SSL certificate, setup all your own payment systems through third parties (Authorize.net, FirstData, Paypal, Google Checkout, etc.)
No support outside the community forum
Poor documentation
Multi-page checkout process that will kill your conversion rates
No integration with accounting systems
SEO takes a lot of time to setup correctly (and you need to be an expert like me to do it)
Building a pretty design takes many hours of coding work- either you do it or you pay someone, either way costing you real money or opportunity cost.
Magento: Decent Cart but not as good as Shopify or BigCommerce
Magento offers two versions of it's shopping cart- a free community download version and a paid enterprise version ($11,125 + per year- absolutely ridiculous when compared to BigCommerce).  I will be reviewing the free community version now.
Benefits of Magento:
Multi-store capabilities
Rapid bug fixes & code updates
Problems with Magento Community edition:
Poor support
Constant upselling to their enterprise version (and no pricing on the site!!! lol)
Not easy to export/import (they want to keep you on their system)
I don't recommend Magento… Shopify & BigCommerce both have better setups.
NopCommerce: New ASP.NET open source shopping cart
I think that NopCommerce is the best open source ecommerce software solution currently available on the market.  It has the easiest setup and can be customized much more quickly than Magento or ZenCart.  Awesome features of NopCommerce:
Easy deployment
Live Chat integration
Text messages on sales & contacts
Great reports for seeing information on sales
Free
Open Source
One page checkout abilities
Built in forum
Problems with NopCommerce:
Not great support
Self hosted
Still somewhat buggy
Requires Microsoft licenses
Final Word: BigCommerce offers the best shopping cart platform
As a user of all of the above shopping cart platforms, BigCommerce clearly stands above the rest.  I also have researched many other ecommerce shopping cart solutions including Volusion, goEmerchant, Fortune3, CoreCommerce, Yahoo Merchant, ProStores, Godaddy Quick Shopping Cart, goEcart, genXpros, and others and I didn't find any of them to be as good as these top 5 shopping cart platforms.  Checkout ZenCart, Shopify, NopCommerce, and Magento for yourselves, but make sure you give BigCommerce a very thorough review.
I hope my extensive research and experience has helped clear up concerns and point you in the right direction for building your own online store!  If you have any questions, please feel free to ask in the comments section below.