What is the best flag football offense? The best flag football offense will vary depending on your players and their strengths/weaknesses. However, my experience through several seasons of analyzing flag football offenses has shown me that the best share several common characteristics:
Simplicity: Possibly the most important part of creating the' best flag football offense is keeping it simple enough that everyone on your team knows exactly what they are supposed to do.
Plays: ' Teams that are too lazy to draw up their plays inevitably end up screwing up in crunch time. ' The' best flag football offenses use few cards with their plays drawn and labelled clearly.
Execution: ' Each player must crisply run his routes according to plan in order for a play to pull a defense apart.
Calm: Easier said than done, but if the team that can remain composed and stick to its plan even when things get hairy or the team is losing has a big advantage.
Below are a couple of plays that I have drawn up that I have seen the best flag football offenses run. ' The plays ' involve taking advantage of pulling a wide receiver behind the quarterback's yard line in order to utilize him as a second QB. ' If the primary quarterback is unable to spot an open receiver, he can throw it back to the second quarterback who may then either run or throw. ' The play basically gets an extra 3-6 seconds of valuable lifetime. ' This first play below will destroy man defenses and provide some openings against a zone defense.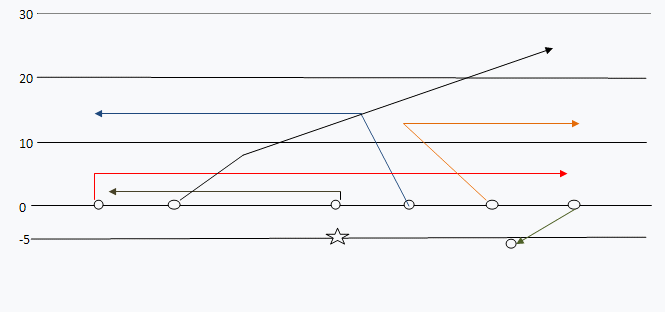 I have another play that the best flag football offenses run primarily against zone defenses below. This one puts tons of wide receivers on one side of the field in order to overload the few guys who are sitting in their zones.